As a reader I always want the download on what's going on with authors. Do they have new books coming out, how the latest tour going, any thing juicy! So, I decided to bring the news to my readers. I'm lurking around all of those author blogs anyway, might as well do something productive.
General Gossip:
It's getting close to 2011, which means hot titles are awaiting us.  One of the new books in Diana Pharaoh Francis Urban Fantasy series is one of the many to look forward to.  Just to get your hype on check out this excerpt, read the first chapter of Crimson Wind!
More goodies a head. You can now read the first chapter  of The Lost Saint now!  Also, lets get you really excited with the official trailer!!
Scottish House of Night fans rejoice P.C. Cast will be their in January and has agreed to do three events.  All the information you need should be provided below.
TOUR DATES AND PLACES:
Thursday, January 13th
10:30 a.m.
Scottish Book Trust, Edinburgh (Talk/Reading/Q&A and signing)
Venue: 55 High St., Edinburgh, Midlothian EH1 1SR
For more info see:
http://www.scottishbooktrust.com/meet-out-authors/individual-events-programme/pc-cast
Monday, January 17th
7:00 p.m.
Waterstone's Stirling (Talk/Reading/Q&A and signing)
Venue: Cowane Centre, Cowane Street, Stirling
For more info contact Waterstones Stirling 0843 290 8615
Thursday, January 20th
6:30 p.m.
Waterstone's Glasgow (Talk/Reading/Q&A and signing)
Venue: Waterstones, 153-157 Sauchiehall Street, Glasgow G2 3EW
For more info contact Waterstones Glasgow 0141 332 9105
This is a first chapter excerpt that I'm foaming at the mouth for!  Another yummy little treat to look forward to in the New Year!!
Torture yourself here!
Even though This Side of the Grave isn't due out until March 1st, we need to indulge in one of the hottest series out there!!  To read snippet number one (that's right there will be more then one) check it out
HERE
.
Ilona Andrews and there editor, Anne Sowards, wanted to spiol fans with a Christmas present.  I have to say this is the best one I've gotten so far. An excerpt of the prologue to Magic Slays.  Dig in kitties.
Straight from author Sophie Jordans blog:
FIRELIGHT Movie News:
As many of you know, Mandalay has optioned the film rights to FIRELIGHT. Mandalay's Peter Guber and Cathy Schulman are producing with Adam Stone overseeing the project and serving in some producing capacity. They're hard at work on acquiring a screenwriter and "talent" to play the role of Jacinda. I'm giddy over some of the names that have been tossed around, but nothing I can share yet. It's all very exciting and hopefully I'll be able to report more news on this front soon.
New Covers:
I just love the covers for this series, plus I love the series.  So win-win!!  The background for this one has to be my favorite, they just keep getting richer every time.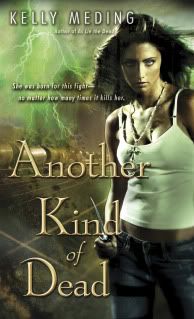 What the author has to say:
I can now unveil the cover for Dreg City #3, ANOTHER KIND OF DEAD. And can I just say how much I love this? I have truly been blessed with some amazingly awesome covers, and this one is no exception.

The background is a train yard, which see a little action this time around. And the super-cool lightning is a fun plot point, as well. Evy looks particularly bad-ass in this one, and the tag line says it all: She was born for this fight--no matter how many times it kills her.

Love. It.
So this is slightly older news on this hot little number, but I'm a fan and I have fan gushing rights.  This is just stunning. (Really big gush, I know.)
All of the colors are visually stunning, like they were purposefully picked just to show off Clary's fire hot hair!!
What the author had to say:
I've always loved the covers Cliff Neilson has done for the MI series. Each one is fun and different in its own right. For the "second cycle" of The Mortal Instruments we wanted to do something that would link the cover aesthetically to the earlier covers while having a different quality that announced that this was a new chapter in these characters' lives. We decided that each of the Second Cycle covers is going to have two characters on it — in this case Clary and Simon.
One of the hottest Romantic Fantasy authors out there will actaully be adding on to one of her series, the Warland trilogy.  So drool over this yummy cover, boy I know I did.
What the author had to say:
But before we talk about stories, let me share the cover of WarCry with you.  Isn't it just amazing?  Took my breath away, let me tell you.  WarCry is still on track to be released in May, 2011.   I will be posting sample chapters to the website as soon as I can.  Check eavwrites.com about mid-January for a sneak peak.
The authors of this next hot little number pretty much some up what I thought upon seeing this cover.
What the authors had to say:
WE HAVE A COVER!!!

At long last we finally have our final cover for Demon Song. Isn't it GORGEOUS!!! WOOO HOO!!